My iPhone won't "trust" my computer
Tags: apple, drivers, ipad, iphone, itunes, trust, windows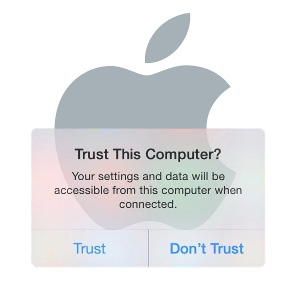 I recently ran into an issue where I would plug my phone into my laptop, and each time it would ask if I wanted to trust the computer. I'd click trust, try to get into iTunes, and it still wouldn't find my phone. So I'd unplug and re-plug in my phone, and lo and behold, it would ask if I wanted to trust my computer again… and again… and again.
Rebooting didn't help. Updating iTunes didn't help. So went out to find a solution.
I found a thread on Apple's support community forums that had these steps that worked perfectly for me:
Connect your iPad/iPhone/iPod to your PC
Go to: Control Panel > Device Manager
Click on: Portable Devices
Right click on: Apple iPad/iPhone/iPod > Update Driver Software
Choose: Browse my computer for driver software.
Go to: C:\Program Files\Common Files\Apple\Mobile Device Support\Drivers
Click okay and everything should suddenly work fine again.  (I can't remember if I had to choose "trust" again, but if I did, I only had to do it the once and everything was fixed after that).
This worked just great on my Windows 10.